Are you looking to rent a flower arch in Miami? Balloon Decor Service is an event rental company in Miami. We have a variety of event rentals, including flower arches, available for your service in Miami. Flower arches work great at so many events but really shine at weddings. Flower arches are a beautiful alternative to many of the arches you can see at various weddings. Each one of our flower arch rentals in Miami are decorated using premium silk flowers. We have 2 flower arch rentals that are sure to catch your eye.
Meadow Arch Rental in Miami
The meadow arch rental is carefully decorated using flowers and drapes. This flower arch rentals in Miami features white flowing drapes that are tied back on each side. Along the top and sides of the arch are beautiful flower arrangements. The flowers included are pink, cream, and blush with greenery. This flower arch is your best choice if you are looking to add a little flare to your wedding arch without being concerned about going over the top. You and your partner will look so cute together under this amazing flower arch.
Victorian Flower Arch in Miami
The Victorian Flower Arch is perfect for anyone who loves flowers and wants them on full display at their wedding and event. This arch prominently features flowers along the top and sides of the arch. The flower garland comes in white, pink and blush colors with greenery to help add some more color. Behind those beautiful flowers are flowing white drapes to help set the scene and make it perfect for any wedding. This is a can't miss flower arch rentals in Miami if you love flowers.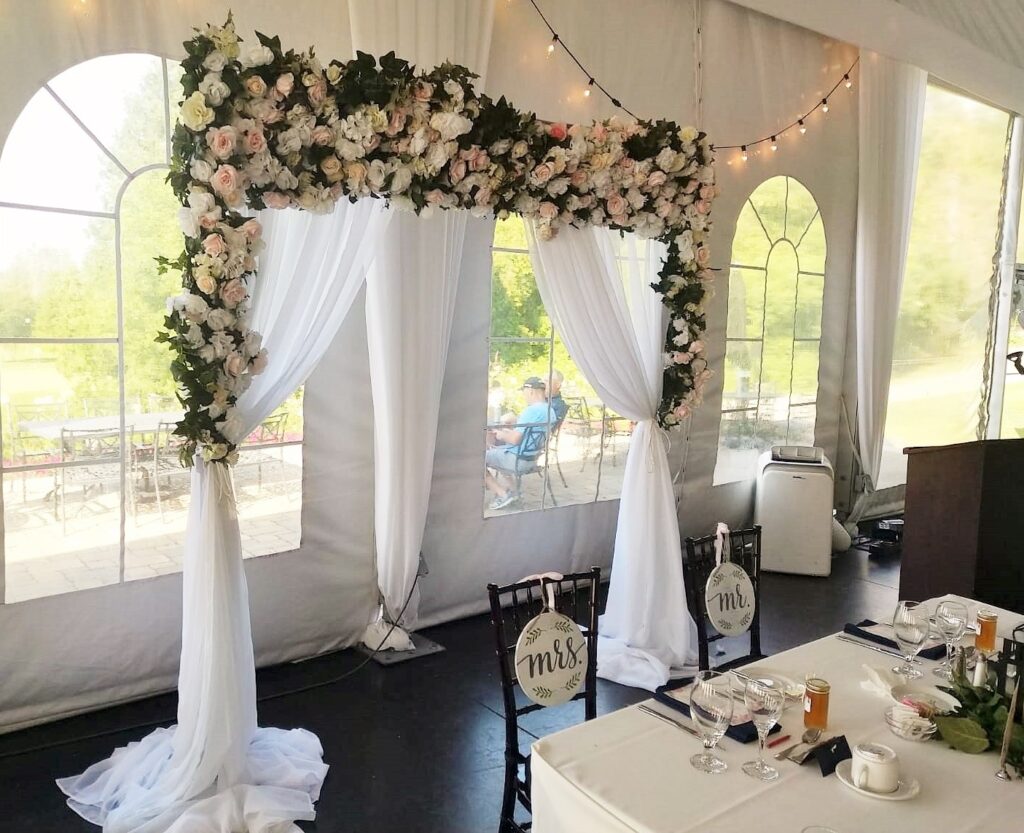 How to Rent with Balloon Decor Service in Miami
If you are interested in renting one of these beautiful flower arches, you can contact us at 1 (855) 759-0249 or balloondecorservice@gmail.com. Our team will be more than happy to provide your event with one of these beautiful flower arch rentals in Miami.
If you are looking for additional decor for your event, check out Event 365 Rentals. They have a variety of rentals that are perfect for any event.