First birthdays are always a huge celebration. It seems like just yesterday that they entered this world and now you have to start planning a first birthday. You can put a lot of pressure yourself to put on the greatest first birthday party ever. It's your child's first and tons of friends and family are going to be there to celebrate. We have you covered! At Balloon Decor Service, we have seen a number of first birthday parties over the years. We have put together a list of the best first birthday rentals in Clearwater that are perfect for any first birthday party. Everything you might need to help the party go off without a hitch.
Balloon Decor Service in Clearwater
Balloons are always a solid choice for a birthday no matter what age you are turning. At Balloon Decor Service, we have created a variety of balloon arrangements for first birthdays over the years. Our balloon artists use a variety of techniques to craft each arrangement. The first is selecting the colors for your arrangement. We have over 20 different colors for you to choose from and you can select up to 4 with each arrangement. Once you have the perfect colors picked out, our artist will begin to craft your arrangement. They inflate the balloons to various different sizes to create depth. Finally, your arrangement is ready for the party. All of our arrangements can be free standing or attached to a surface. This gives you ultimate control over where you want your first birthday rentals in Clearwater to be.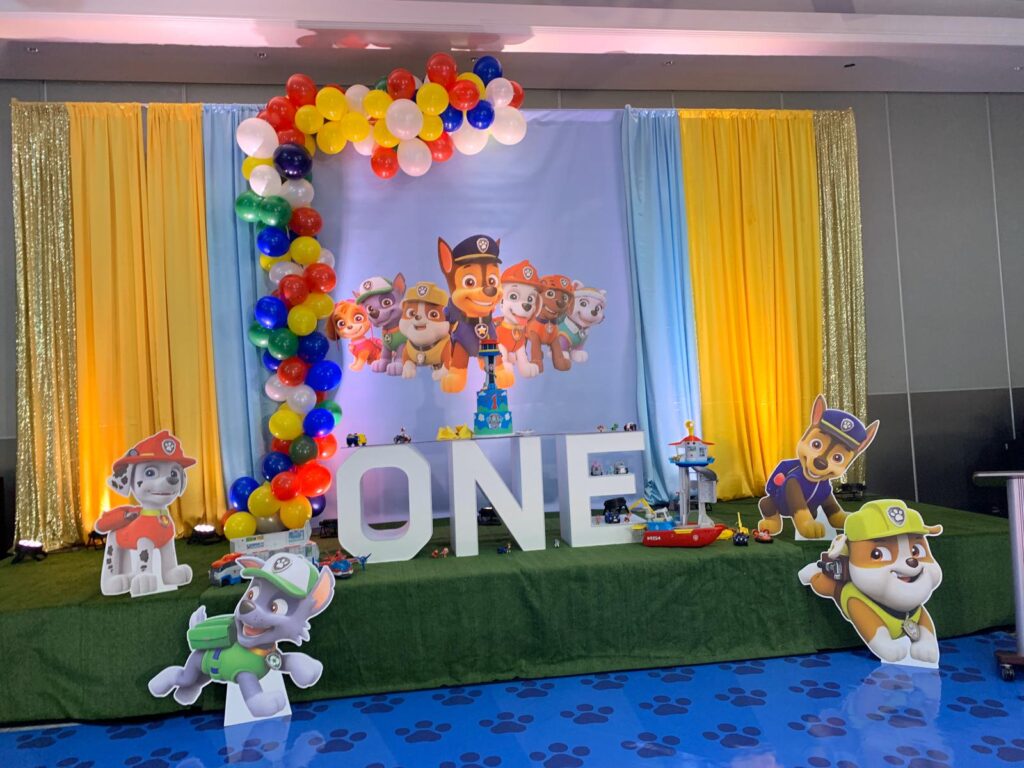 Marquee Rentals in Clearwater
Marquee letters are a very modern piece of decor that can have a place at any first birthday party. We offer a wide variety of marquee rentals for you to choose from including our letters with lights rental option. We have crafted a marquee that is designed to be the perfect first birthday rentals in Clearwater. This rental is our One Marquee Table. The One Marquee Table is crafted using marquee letters 32″ in height and are connected with a see through panel on the top. This creates a table that displays the word "ONE" in a very stylistic fashion. The table is perfect for displaying gifts, presents, decor and even the cake. A marquee table is a great addition to any first birthday party.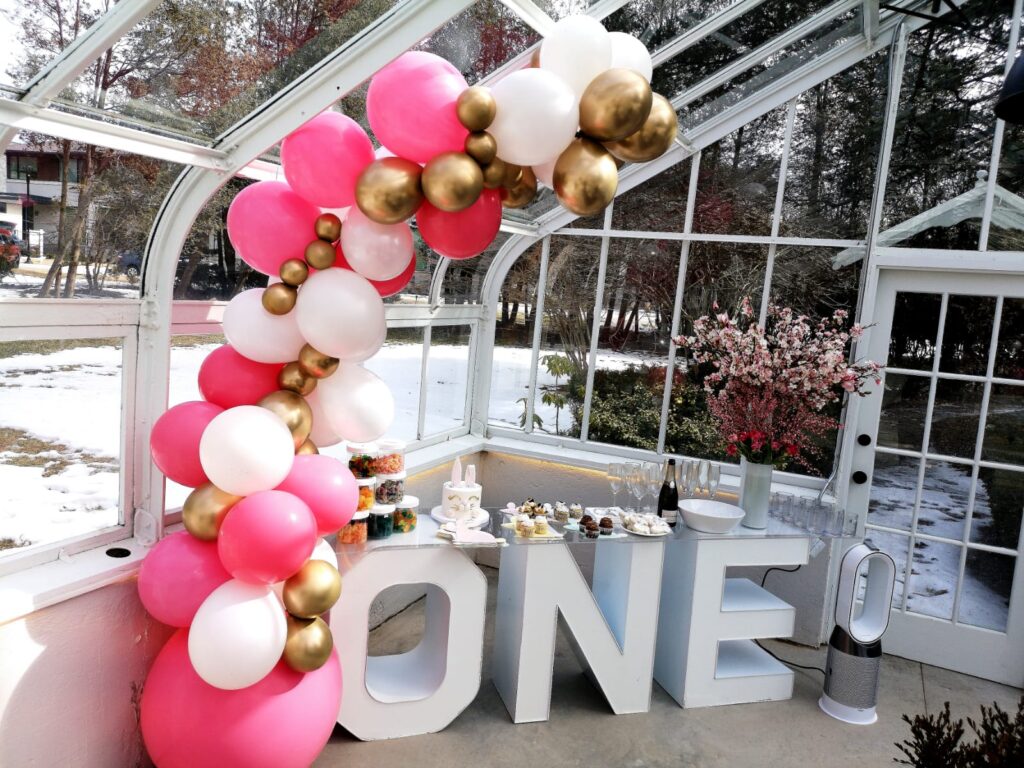 Flower Wall Rentals in Clearwater
Flower Walls in Clearwater are great first birthday rentals. These are large pieces of decor that are often used as backdrops and backgrounds for events. Our flower walls are crafted using premium silk flowers to ensure stunning beauty. Each of our flower walls stand at 8 by 8 feet and can be personalized with custom gold lettering. Our custom lettering is a great way to make the flower wall your own. Display the child's name, the birthday age or a simple "Happy Birthday" message on the flower wall. We have 6 different flower walls in Clearwater for you to choose from, check them out on our website.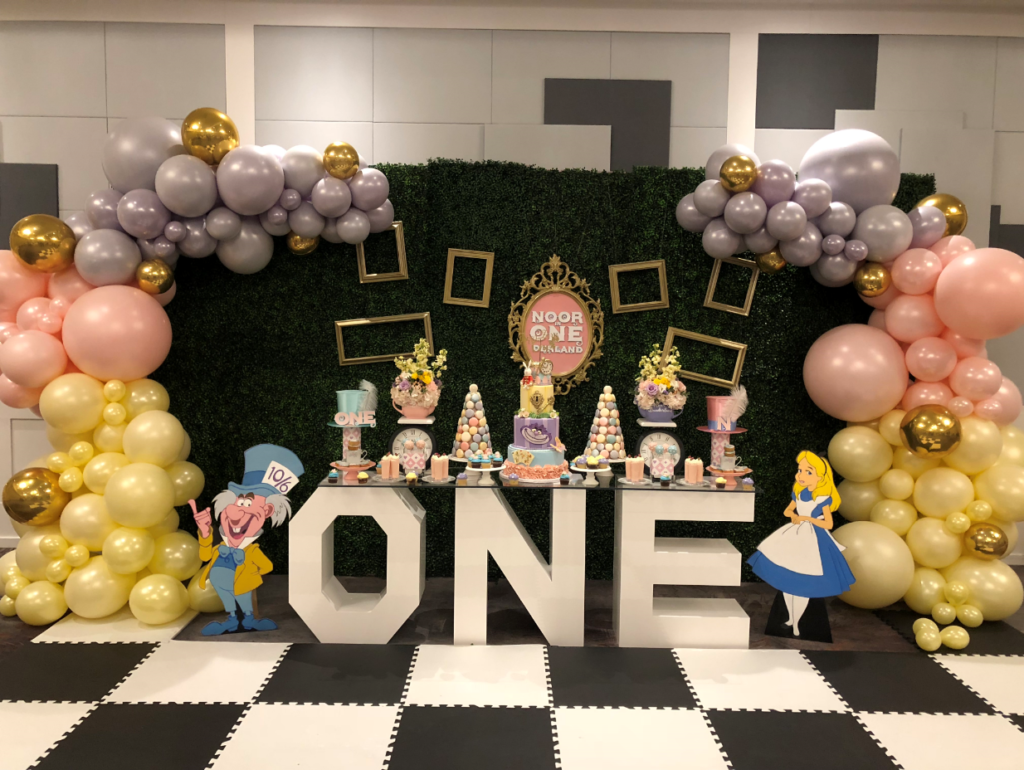 First Birthday Rentals in Clearwater
If you are interested in grabbing any of these rentals for a first birthday party, contact us. We have an experienced and friendly team that can help you get the best rentals. Reach out to us via phone at +1 (855) 759-0249 or email us at balloondecorservice@gmail.com.
If you are looking for any additional rentals, check out Events 365 Rentals.