Birthdays are that fun time of year when you get together with friends and family and celebrate another year of you! There are so many different ways that you can choose to celebrate your birthday. There are also so many different ways that you can choose to decorate your birthday. Decor is such an important part of someone's birthday, it helps set the overall tone of the celebration. There are a variety of amazing birthday rentals in Tampa. Balloon Decor Service has put together a list of our best rentals for your birthday celebration.
Balloon Rentals in Tampa
Balloons are the classic piece of decor that everyone thinks of when they are going to have a birthday celebration. However, our balloon rentals are not your standard balloons that you can get at any party store. Our balloon artists craft each arrangement from the ground up using balloons in a variety of different colors and sizes. Each arrangement can be freestanding or attached to a surface. The combination of choosing your own colors, sizes and placement gives you so creative freedom with your birthday decor. Our balloon birthday rentals in Tampa will be able to easily fit with and complement your other decor. Speaking of other decor, let's get to some more amazing birthday rentals.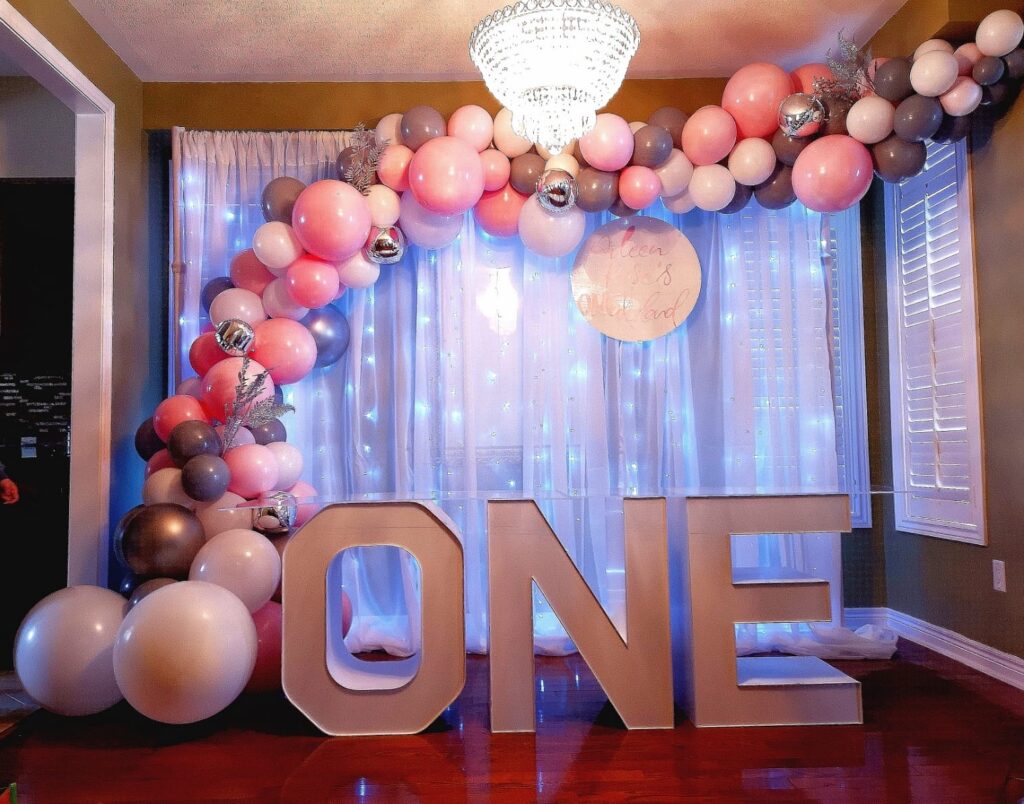 Flower Wall Rentals in Tampa
Flower walls are a wonderful piece of decor to have on display at your birthday celebration, especially if you love flowers. We have 6 different flower walls available as birthday rentals in Tampa. Each flower wall comes in different colors and has a different combination of flowers so you can select the one that is best for your celebration. All of our flower walls stand at 8 by 8 feet and serve as amazing backdrops for your party. The pictures you take in front of your flower wall rental will be amazing. These photos will really stand out from previous birthday photos, perfect for framing and photo sharing.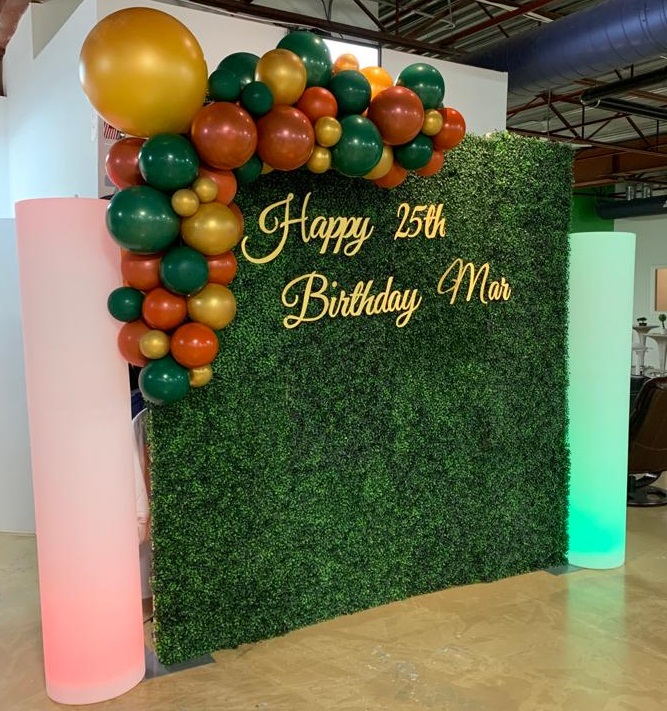 Photo Booth Rentals in Tampa
Photo booths are a wonderful service and decor to have at your birthday celebration . These birthday rentals in Tampa are a great way to have some fun and capture the memories. Each of our photo booth rentals comes with everything you need to generate some amazing photos. Everyone of our photo booth rentals features:
Unlimited 4×6 Prints during event + share to social media
Digital copies of photo booth pictures
On-site attendant during the event
Live view and touch screen photo booth
Email sharing of pictures
Lots of fun photo booth props provided for guests!
Photo booth backdrop colour of your choice (navy/gold/rose gold/purple/silver)
Equipment includes everything needed to operate: HD DSLR camera, state of the art printer, flash, backdrop and stand, table for props.
Every photo booth rental includes 2 hours of operating time plus 1 hour of setup. Photo booths pair great with the flower wall rentals that we previously mentioned.
Marquee Letter Rentals in Tampa
Marquee letter rentals are a very unique piece of decor that you can have on your display. We offer marquee letters and numbers, this way you can choose to display your name, age or both. These birthday rentals in Tampa stand at 4 feet tall and are decorated with soft white lights on the inside of the letter. The lights will illuminate the letter, making them visible throughout the entire room. We strongly recommend you try displaying these letters in dim lighting to get the full effect.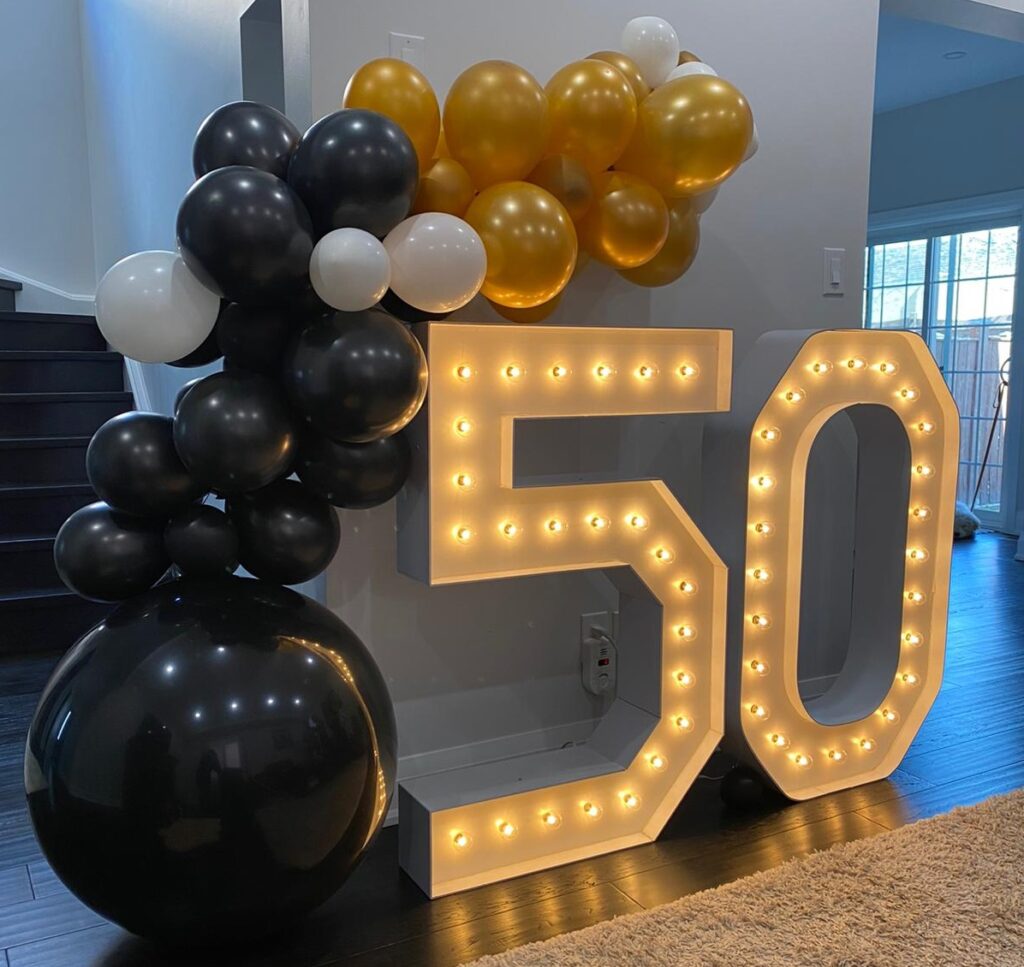 Birthday Rentals in Tampa
If you are interested in getting any of these rentals for your celebration, we will provide the contact information below. We have a team full of experienced and helpful individuals who will help you get your rentals.
Balloon Decor Service
Phone: +1 (855) 759-0249
Email: balloondecorservice@gmail.com
If you are interested in any additional event rentals, check out Events 365.